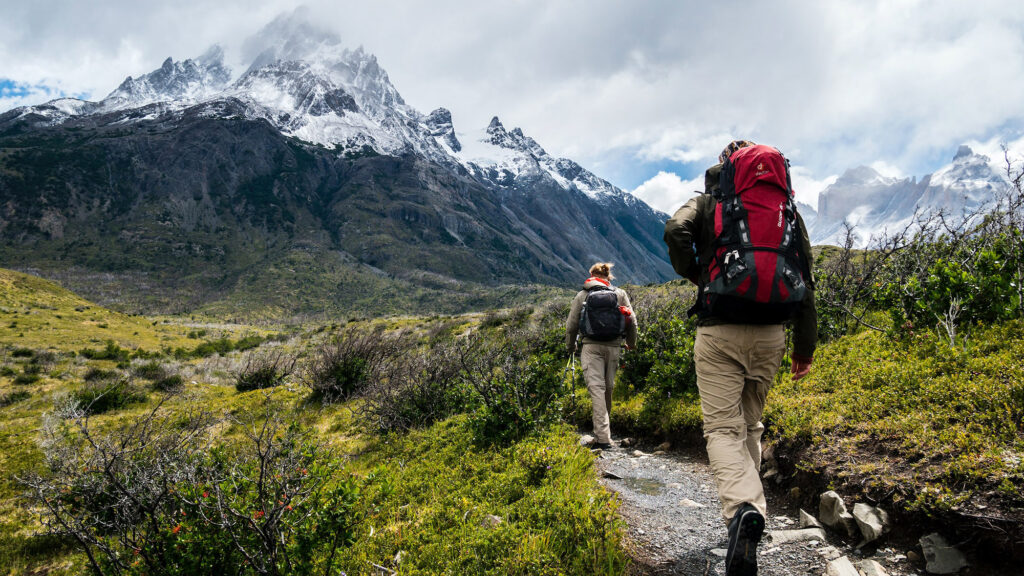 Hiking can be more than a simple adventure. You need to make sure to prepare for everything if you're wandering into the wilderness. Having the right hiking gear can help you stay safe on your journey. This list will help you to help you choose your essentials to ensure you bring the right items on a hike.
1. Water
Bring at least three bottles of water and on extra hot days you may want to consider bringing more. You might also consider a water filtration device if your route has a clean water source.
2. Salty Snacks & Sandwiches
Despite how much water I drink, I still sweat. Salty snacks help me make sure that I have the right balance of electrolytes. Never hike on an empty stomach, and always bring five snacks along on longer hikes. If I am hungry after hiking a few miles, a sandwich usually gives me enough energy to keep moving on my journey.
3. First Aid Kit
I always have a small essential/first aid kit with me.  My kit includes bandaids, a bandage to use as a I always pack a small essential/first aid kit. My kit includes band aids, a bandage, medicine in case of a bee sting and/or medication for an extra day.
4. Portable Charger and Phone
Although you don't expect to run into any problems, I still bring my phone. I make sure that it is fully charged before hitting the trail and bring a portable charger which helps me feel safer in the wilderness.
5. A Map of the Journey & GPS Tracker
It can be very easy to get lost on a hike, even with a good sense of direction. Take a GPS tracker on every hike in addition to downloading a map of the journey. Even experienced hikers run into logistical problems and use a GPS tracking device to help guild their way through the terrain.
6. Outdoor Supplies
Even if I'm not planning on sleeping outside, I always bring a lighter. I will not freeze outside if my hike bEven if I'm not planning on sleeping outside, I always bring a lighter. The lighter helps if I need to create a fire to keep me warm. I also bring a small weapon, flashlight, animal spray and bug repellent. If it is hot outside, don't forget to consider bringing soap and extra clothes.
7. Hiking Footwear
You're going to be spending a lot of time on your feet, so comfortable footwear is important on a hike. Always consider the landscape of the hiking trail, some trails hiked may require water shoes. I usually wear sturdy boots for my wilderness hikes. Inside your footwear, you might consider supportive products such as our Active Boot Bumper or Body Discs, which can be applied to parts of the foot suffering from discomfort caused by pressure or friction.
8. Blister Protection
Chafed skin or feet can ruin a hike. I always rub on the Blister Prevention Stick that protects my feet with a lubricated formula creating an invisible protective barrier.  The rub-on stick applicator makes it easy to use and take on-the-go. Also, to prevent blisters, I apply the PelliTec Blister Prevention Pads to the heel area of my shoe. These pads are designed to stick to your footwear, not your skin. They are proven to be effective in reducing the occurrence of blisters and helping them to heal. The pads will stay firmly stuck in your footwear even in wet conditions.
9. A Temporary Shelter & Hammock
A rain jacket and a lightweight hammock are great to have with you just in case the weather decides it is going to change. The hammock can be used as a trap and a place to sleep or relax if need be. If you don't prefer sleeping above the ground, consider a tent where you can camp on the ground.
10. Sun Protection
I apply sunscreen several times during the day when the sun is high in the sky. I also wear a baseball cap and sunglasses.
Now that you know what things to bring on a hike, start researching your routes. Always have a map of an alternate path. Also, tell at least one person where you are going. You will have peace of mind knowing that someone will look for you if you get lost.