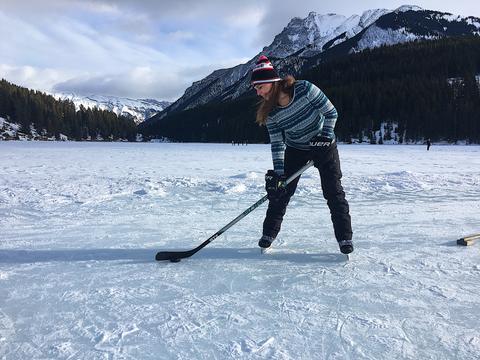 Name: Ali Stead
Where do you live? Calgary Alberta, Canada
What type of athlete are you? I am a hockey player
Do you have a day job or are you professional athlete? I work full-time as a private music teacher. I absolutely love what I do for a living and I love the flexibility that it offers me to pursue my athletic endeavors. I am able to train for a few hours every morning of the week before work!
How long have you been participating in this sport? I've been playing hockey for two and a half years now. I fell in love with the game of hockey the very first time that I tried it and haven't looked back since. I tried a beginner shinny and what was my first time playing the sport. I remember staying on the ice long after everyone else had gone home to do drills and to begin learning how to snowplow stop on skates! I was totally hooked after that first shinny.
What athletes do you look up to? I admire any athlete that has a strong drive to improve, take action and work hard. I respect and admire those qualities as much as a person's actual skill and athletic abilities. That being said, I wish I had edges like Crosby and the speed of McDavid!
What got you excited about athletics? There are a lot of things that got me excited about athletics. I love the skill and physical abilities that are required in athletics and especially hockey. When I first tired hockey, I was excited about how many things that there are to learn and master. Hockey has so many different pieces – skating, shooting, stick-handling, passing, systems, hockey sense, physical strength, agility, explosiveness, cardiovascular endurance and teamwork to name a few. I love that there are so many areas to improve on.
What is your training regiment? I am on the ice at least 4 times a week and often a lot more. Most weeks I play 1-2 games with my recreational team, 2 shinny's with a mean's group, 1-2 shinny's with a ladies group and I try to fit in a few skills sessions as well. I spend about 90% of my time during skills sessions working on skating , edge-work and balance. The rest of the time I will work on a bit of shooting or stick-handling. I also spend about an hour each week working off ice on things like shooting and stick-handling.
Describe your perfect day? What does it consist of? My perfect day would be filled with hockey! I would wake up and have a pot of tea and a big breakfast and head out to a morning shinny. Afterwards, I would go through a cool down and stretching routine (something I don'd always have time for as a I have to rush to work as soon as I get off the ice)! I'd then eat lunch and hit the outdoor rink to get some fresh air. I'd set up a fun stick-handling course and hang out there for an hour. After that, I'd head back to the indoor ice to work on agility and full speed drills. I'd also work on a bit of edge-work, power skating, passing a shooting. I'd finish off the evening with another fun shinny game, followed by a relaxing stretching routine before bed! I would love to have a game on my "perfect" day as those are the most fun – but that would mean having more of a rest day to conserve energy for the game (perhaps just a light morning skate), so I decided to leave that out of the "perfect" day so that I could fill it with hockey all day long!
What is your diet like? My diet is very routine. I eat a lot of the same meals and foods every day. I eat a lot of chicken and extra lean ground beef and also a lot of rice and pasta. Two of my favorite meals are chicken-vegetables stir fries and chicken and rice with salad. My favorite salad is a mix of lettuce, yellow peppers, cucumber, cherry tomatoes and cheese.
How do you take care of yourself? Taking care of yourself is so important and for me there are three things that I actively prioritize each and everyday. Getting enough sleep, eating good meals and managing stress whenever it arises. My biggest priority every day is making sure that I get enough sleep! Sleep is so important and it makes a big difference in my energy levels during the day. I am lucky to be able to wake up "naturally" every day and not with an alarm – it's a lot more peaceful waking up naturally! I wake up at around 6:30 – 7 am, feeling rested and full of energy and ambition for the day ahead. Eating food meals is another priority, so I try my best to eat solid meals throughout the day, especially leading up to and following any activity that requires more energy than normal such as a game. The third thing that I do to take care of myself is to manage stress as best as possible whenever it arises. There are a few activities that I find helpful in managing stress and for me those are getting outside in nature, mountain biking, playing guitar and of course getting on the ice!
What was your impression of the Silipos Oval Lace Bite? How did it add value to you? What did you like about them? I was so happy to have the opportunity to try the Oval Lace Bite protection, as lace bite has been a struggle for me with my outdoor rink hockey skates. The lace bite protectors fit well in my skates and I love the comfort of the gel. I've used a hard plastic style lace bite protector in the past and found them to be quite bulky and uncomfortable feeling due to the use of a plastic style padding. I love that the Silipos sleeve's are designed the way they are, making them comfortable to wear and effective.
Would you recommend the Silipos Oval Lace Bite to other athletes? I would recommend this product to other athletes. The Oval Lace Bite Protectors are worth the investment and are so much more comfortable and effective than any other lace bite protection that I have tried in the past.
What is one piece of advice you would give to an aspiring athlete? My one piece of advice to an aspiring athlete is that it is never too late to chase your dreams. If you've always wanted to play a sport, you are never too old to jump in and learn. So many people wish they could have learned to play hockey (or any sport) but you can learn at any age and enjoy it at any level, beginner to elite. If you've always wanted to learn to play a certain sport then go for it!
You can continue to follow Ali's career and active journey through life by following her on her social channels! 
Instagram: @never2late2learn.hky
Facebook: @never2late2learn.hky

Twitter: @never2late2lea1
Read more inspiring Silipos stories!