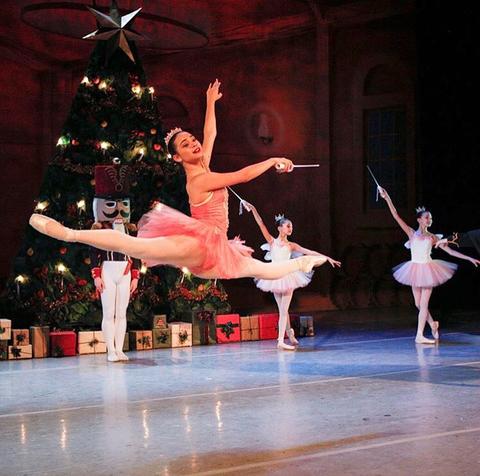 Name: Gabriela Gutierrez
Where do you live? I am currently living in Philadelphia, PA
What type of athlete are you? I am a Ballet Dancer
Do you have a day job or are you a professional dancer? I am a pre-professional dancer in training.
How long have you been participating in this sport? I first started dancing 11 years ago, and started taking it seriously 6 years ago.
Who are your biggest influences? Who do you admire most? My biggest influence is Beckanne Sisk. I first met her when I was really young at my current school and I immediately fell in love with her dancing. Beckanne is a principal dancer with Ballet West in Utah. She is an incredible ballerina with amazing technique and artistry, and the most humble kind person. I aspire to be like her one day. Another dancer I admire very much is Marianela Nuñez. She is a principal dancer with the Royal Ballet in London.
What is your training regimen? Every day, I have an hour and a half technique class twice, followed by an hour of pointe class. If we are preparing for performances or competitions, I can have additional rehearsals in the afternoon.
How do you structure your days? We have a schedule set for everyday to ensure that we get a good balance between schoolwork and dance training. The school also makes sure we get enough rest after classes and enough time before to stretch and warm-up. In the mornings we get two hours of academics in which we do our online school. Then we have a 30 minute break before our first ballet class and pointe class. Once ballet classes are over we have 30 minutes for lunch and then we have 2 more hours of academics or rehearsals. We have another 30 minute break before night classes.
Do you find your diet to be a crucial part of your lifestyle? If so, what diet tips would you recommend to your followers? I personally don't have a specific diet. I try to be healthy and eat small meals 4 or 5 times a day. A lot of dancers do have diets and find them crucial but I personally think it's better to not give yourself restrictions but definitely always think of the healthiest options. It is also very important to make sure you're eating enough throughout the day.
How do you care for your body and health aside from your sport? I make sure that I get enough rest and sleep everyday. This is very important to make sure you have enough energy and is also important for injury prevention. To take care of small issues and injuries I go to Physical Therapy and do conditioning exercises. Whenever on long breaks, it is important to keep yourself in shape therefore I like to go to the gym and do some cardio and keep on doing my conditioning exercises.
What is your impression of the Silipos products we sent you? How did they add value to you? What did you like about them? The Silipos products were very useful. I got a pair of toe pads which are used as protection when wearing pointe shoes. I also got a pair of gel toe separators that I used with the toe pads. They are very comfortable and did an amazing job at protecting my toes in my pointe shoes. The toe pads have a layer of gel between the fabric making them protective and comfortable, and the fabric is cooling meaning that it doesn't trap much heat unlike other toe pads I've tried before. I enjoyed trying these products and will definitely continue to use them and buy more in the future.
Would you recommend Silipos products to other dancers? I would 100% recommend the Silipos products. The products are top quality and are very useful. If you are a dancer with bunions and find pointe shoes put a lot of pressure, these toe gel separators are the product for you. They are very comfortable and not chunky so you won't be uncomfortable at all. The toe pads are also very good as a protective layer. If you're looking for a thin toe pad this may not be the product for you as the gel layer is a little thicker than other toe pads that look like these. If you are looking for very comfortable and very protective toe pads that cover the whole inner box of the pointe shoe, these toe pads are the product for you.
What is something that your followers do not know about you, that you find to be very important to your personal lifestyle? Something my followers don't know about me is that I value education very much. I value all sorts of education meaning that I think it's very important to learn proper manners, respect, politeness, kindness, morals, etc., as well as school and training. It is also important to me because ballet careers aren't exactly very long and with proper school education we can find new paths after dance. Another important thing in my life is reading. I love reading whether it's a fiction book to escape reality, a philosophy book, or a history book for instance. Reading is something that helps me further extend my knowledge and it's a great way to relax. I especially enjoy going to a coffee shop with a book.
What keeps you motivated when you are faced with challenges? Whenever I'm faced with challenges there are a few things that keep me motivated. The first thing that keeps me motivated is thinking of the feeling I get when I'm dancing onstage. Dancing my heart out is something that helps me so much in moments of struggle. My family is also very important to me and they help me stay motivated whenever I feel like quitting. They are extremely supportive and loving, and always help me get back up when I fall down. I value my family the most and I would do anything for them just like I know they'd do anything for me. I wouldn't be where I am, and I wouldn't have made it this far without my family.
What is one piece of advice you would give to an aspiring dancer? The one piece of advice I would give to an aspiring dancer is to let go. What I mean with letting go is that nowadays we focus so much on striving for perfection that we forget why we fell in love with ballet in the first place. That feeling of dancing your heart out and feeling the music and moving is what made us become dancers. Being able to express a feeling that will touch and move the audience is what matters the most to me. Artistry is everything but don't get me wrong, technique is still extremely important. Ballet classes serve the purpose of working on your technique as much as possible. My piece of advice is to let go, feel the moment, and just dance whenever doing any piece, especially onstage.
Read more Silipos Stories here!