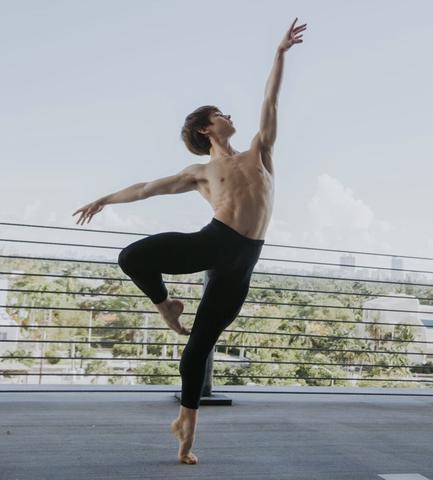 Name: Gavin Nicholson
Where do you live? Miami, Florida
What type of athlete are you? Dancer
Do you have a day job or are you a professional dancer? I am a ballet dancer and I am currently enrolled as a student with San Francisco Ballet!
How long have you been participating in this sport? I started dancing when I was 15 years old, which was a very late start to begin training.
Who are your biggest influences?
Who do you admire most? My biggest influences are my teachers and friends who encourage me the most and help me become a better dancer. Derek Dunn is the dancer I admire the most, we have a very similar body and both of us are considered short for ballet dancers. Watching him dance inspires me and I look up to him and aspire to be like him in my ballet profession.
What is your training regimen? Typically I dance from 9:30 am to 5:00 pm Monday-Saturday. We begin our day with a ballet technique class which runs around one hour and forty five minutes. Our next class depending on the day will either be Pas De Deux (Partnering class) or Batterie/Variations, and these classes are one hour and thirty minutes long. Our third class, again depending on the day, can range from contemporary to choreography or repertoire. So depending on the day our training regime is extremely planned and chronological.
Do you find your diet to be a crucial part of your lifestyle? If so, what diet tips would you recommend to your followers? As a ballet dancer and athlete we have to ingest a lot of carbs and constantly replenish ourselves with a ton of water. Since our days are very long and often short with 10 to 15 minute breaks between classes, light snacks like bars, yogurt, carrots and hummus for example are perfect foods to push us along the rest of the day. It's very important for us dancers to constantly roll out tight muscles and stretch too! I always ice at the end of the day to kind of reset any joints, tendons or muscles that are bothering me.
How do you care for yourself? Every person has bad days and when I find myself having one of those I take a deep breath and tell myself that "it's okay". The more you stress about those bad days the harder it will get and dancers especially are always trying to strive for that perfection and sometimes we forget to take a step back and notice the hard work and improvement we have went through. So when we have those challenging moments, like how everyone faces, try to remind yourself that what you do you love and it's key to not be blinded by frustration.
What is your impression of the Silipos products we sent you? How did they add value to you? What did you like about them? I really enjoyed the Gel Toe Separators from Silipos since they allowed me to relieve pressure away from my toes and add proper alignment to my foot when I point! Since we ballet dancers are constantly on our feet and manipulating them to form crazy lines and positions, the gel toe separator really helps me get through long classes and rehearsals by taking tension and pain away from my toes. I really like how small and comfortable they are, I don't even notice them when they are in my ballet shoes!
Would you recommend Silipos products to other dancers? I would definitely recommend this product to other athletes especially dancers.
What is something that your followers do not know about you? Something that my followers don't know about me is that I love  playing video games! Video games especially after long ballet days help me unwind and relax!
What is one piece of advice you would give to an aspiring dancer? What I struggle the most with as a dancer is frustration in myself when I can't get a certain step or if I'm having a bad day. I think the best advice to give to an aspiring dancer is to never give up on yourself and never result in exasperation within your mind.
Read more Silipos Stories here!