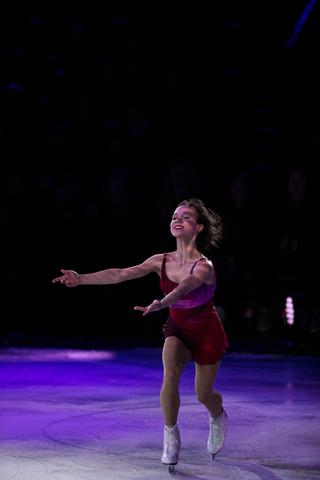 Name: Lubov Ilyushechkina
Where do you live? Toronto, Canada
What type of athlete are you? I am a pair figure skater
Do you have a day job or are you a professional athlete? Professional athlete.
How long have you been participating in this sport? I started skating at the age of 5 years old as a single skater and switched to pair skating at the age of 14. I have been competing and performing professionally in pairs for the last 13 years.
Who are your biggest influences? Who do you admire most? I don't have a person or an idol who I would say made the biggest influence on me… Aside, of course, my parents. I really admire people with strong personalities. Strong people rarely have an easy past. There is always something to learn from them, to remember, to acknowledge that human capacities are endless. In skating for example, I would say Alyona Savchenko. Her bravery, her dedication, her toughness and confidence while facing different challenges are impressive. By her achievements she demonstrates over and over that there is such a powerful voice in your soul saying  loudly "I WANT" and all the obstacles become blurry.
What is your training regimen? It depends on the time of the season. Usually during the off-season, I train 5 days a week, but it is a very intense training when you are getting in shape, improving your cardio vascular, your strength, endurance, also working on the new programs, new tricks etc. The training includes on-ice time, off-ice partnering, ballet, weights workouts, cardio workouts, pilates, different kinds of dance, stretching as well as all the physical work, mental training are all essential parts of my routine. Of course, all these classes don't go on the same day, but the schedule is very tight, so it takes pretty much the whole day. During the on-season, I train 6 days a week. At this time of the year when the main work is mostly done, and you have multiple competitions; the goal is to perform at your best. So all preparation is a balance between pushing hard yet smart, leave yourself enough time for recovery, sleep well, and stay injury free. I usually have the same classes but the amount of training time per day is reduced.  Going to the competition it is important to have the right mind set and be able to perform under the stress, so I would spend more time working on this aspect.
How do you structure your days? The timing may vary. In the morning and in the afternoon, I usually get my biggest part of the training done which consists of an off-ice warm up, skate for several hours with some breaks in between, off ice lifts etc. After this, I either have a class or a workout or both. I will finish the day with a good stretching session.  Per average, my training day would start at around 9-10 am and finish around 6-7pm. Then I go home, relax, prepare myself for the next day.
Do you find your diet to be a crucial part of your lifestyle? If so, what diet tips would you recommend to your followers? I have a much easier time staying fit than I had when I was growing up. Plus, I am very active during the day. It is very important to have well balanced quality food so it covers all the energy needs and gives all the necessary nutrients. I would recommend to never skip breakfast. The day should start with positive vibes, enjoyable meal and smile.
How do you care for your body and health aside from your sport? Every training day I start with a good warm up. It takes a good 45 min… at least. I run, stretch, do my exercises, and prepare my body for work. Otherwise, it doesn't function well. The muscles are cold and tight, I have less control over my movements, and the quality is lower. Every training day, I finish with a good stretching and rolling. Again, around 45 min. It helps to release the tightness of the muscles after working hard throughout the whole day. I also use different lotions to nurture my skin, which needs to be taken care of after spending a lot of time in the cold. From wearing skates; I have calluses on my feet. So, moisturizers and heavy oily creams are my go to.  Rest, sleep and recovery are essential for me. I do use massages when needed. Comfort, support and functionality are required for my training clothes and especially running shoes. And the final advice is to try to avoid the intake of any chemicals, either coming with the processed food or medication (Tylenol, Advil ect). Even when I am sick I prefer natural methods to help my immune system.
What is your impression of the Silipos Oval Lace Bite Protector we sent you? How did it add value to you? What did you like about it? I really like the way it's designed. The layer of silicon goes nicely around the place where the laces are on your ankle and gently pushed them back, just enough to prevent the pain but not to create any discomfort between the foot and the boot. It is very important for the skaters to keep it tight as our feet are very sensitive for the balance and edges. The fabric of the sock itself is very thin so it is almost unnoticeable.  I would also point out that it would be extremely helpful to use Silipos Oval Lace Bite Protectors when breaking in the new skates. It is usually a painful procedure as the new skates are very hard. At the very beginning they are pushing on your feet and it creates calluses and bruises. Silipos can definitely help in solving this problem.
Would you recommend Silipos products to other athletes? I definitely would. I think it is a great source of help.
What is something that your followers do not know about you, that you find to be very important to your personal lifestyle? I like scented candles, especially vanilla, caramel, and cinnamon. I carry them with me when I travel. The dancing candle light and the smell calms me down when filling up the room and it creates a very relaxing environment.
What keeps you motivated when you are faced with challenges? I ask myself " What do I want the most?" and I'm being honest with the answer.
What is one piece of advice you would give to an aspiring athlete? Thrive for your dream. It will not be easy but it will worth it.
You can continue to follow Lubov's career and active journey through life by following her on her social channels! 
Instagram: lubov_ilyushechkina
Facebook: lubov.ilyushechkina
Twitter: IlyushechkinaL
Read more inspiring Silipos stories!