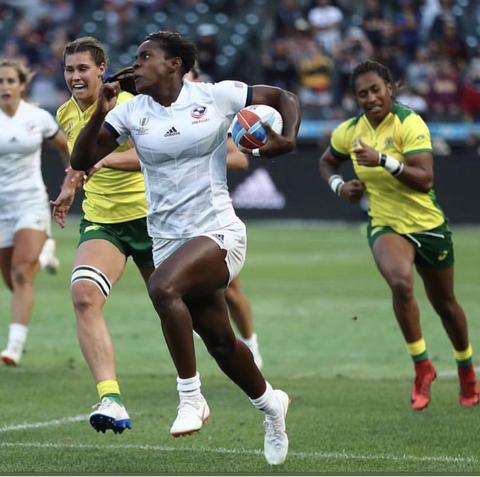 Name: Naya Tapper
Place you live? Chula Vista, CA
What type of athlete are you? I am a competitive and passionate athlete. I want to win and I want to be the best. My passion and competitiveness comes out in different ways whether it's smiling or yelling. I am an athlete who struggles with mental toughness and being able to push myself when people aren't around. I am a very expressive athlete. Who I am as a person is very similar to who I am as an athlete, goofy one minute and zoned in the next minute. I am an athlete who wants the best for my teammates and who will be honest with her teammates for the betterment of herself, her teammates, and the team as a whole.
Do you have a day job or are you a professional athlete? I am a professional rugby player for the USA Women's Rugby team. I train Monday – Friday from 8am-5pm. I also have two side jobs. I am a server at Buffalo Wild Wings two times a week and I do some personal training two times a week as well.
 How long have you been participating in this sport? I have been playing this sports for a total of 7 years. I played in college for 4 years and have been laying professionally for 3 years and counting.
 What athletes do you look up to? If I had to look up to anybody, it would be Serena Williams. We relate firstly because we are both African American women in sports. I also relate to her physically. She has a bigger build than most girls and I am the same way. She definitely showed me it was okay to be comfortable and confident in my skin. I also love that she plays a non-contact sport but is still very aggressive. She is very passionate and it shows. Sporty, feminine, and strong all in one. I also love how mentally strong she is. She deals with a lot and we probably only see a scratch of what she goes through but she continues to stay true to herself and dominate in her sport. She believed in herself from the start and that's all that matters. She is the perfect picture of the word motivation.
What got you excited about athletics? Fighting for something got me excited for athletics. I was able to channel my inner competitiveness. The confidence I would get from athletics also intrigued me. Athletics has a lot to do with how I think about myself. It built my self-esteem tremendously. The lifelong friends you will make from athletics also excited me. It's a real thing! Also, being able to represent your country through athletics excited me. Not many people can say they have been able to do that.
What is your training regimen? I train Monday, Tuesday, and Thursday from 8am-5pm. I have one gym session and two field sessions on those days. On Wednesday I have one small skill session in the morning and then recovery. On Friday I am training from 8am-1pm with 1-2 field sessions. I have Saturday and Sunday off. On the days I train on the field, we do attack work two of those and defense work on the other two days. We have 3 gym sessions total where we will do a upper body, lower body, and full body lift.
Describe your perfect day. What does it consist of? On my perfect day, I would wake up around 10am after getting 10 hours of sleep. I would go to ihop to have breakfast by myself. After breakfast, I'd do a little shopping. After that, I'd come home, lay in bed, and watch a movie until I fall asleep for a nap. Food gives me the itis! When I wake up, I'd go to the beach and lay out in the sun with friends and food. Music would be playing and we'd just be talking and laughing and enjoying each other's presence. After the beach, I'd go to OB Noodle House for dinner and go home to get ready for the night. At night, I'd go to a nightclub downtown to dance the night away. After that, I'd get some pizza from this shop downtown and Uber home. When I got home, I'd pass out! That is my perfect day!
What is your diet like? During the week I make sure to have breakfast, lunch, and dinner with snacks in between. Breakfast usually consists of eggs, spinach, some type of potatoes or bread, fruit, and water. Lunch and dinner consist of chicken, some type of grain, usually rice, a green veggie, and water. Snacks include Greek yogurt, soup, fruit, and nuts. On the weekends breakfast is the same but lunch and dinner can vary depending on what I have to do those days. I like to go out to eat so it can be anything from a Caesar salad with grilled shrimp from Cheesecake Factory to chicken wings from Ob Noodle house!
How do you take care of yourself? Athlete wise, I try to stretch with a band when I have time, get in the normatech, get a massage weekly, or just lay in bed and rest. Mentally, I listen to music, watch my favorite tv shows to get my mind off Rugby, and call my friends to have some good laughs. I also love to get my toes, hair, and eyebrows done. Look good, feel good!
What was your impression of the Silipos Cooling Dermal Pads we sent you? The Silipos Cooling Dermal Pads were great. I used it during our contact session for training. I used it on my left shoulder which gets very sore and uncomfortable during contact. It reduced the impact on my shoulder and smelled great! It stayed in place the entire practice and was very durable. I don't usually use much protection during our contact sessions but after using Silipos, that will definitely change!
Would you recommend Silipos products to other athletes? I would definitely recommend these products to any athlete in a contact sport. My own teammates saw me using this product and asked if they could use it sometime or get the name of the product to buy for themselves! It is very helpful in reducing impact which could be the difference between getting and injury and not getting an injury.
What is one piece of advice you would give to an aspiring athlete? Never get complacent no matter how good you or the world may think you are. There is always room for improvement. It won't always be you pushing yourself to get better so keep an open mind and open ears. If you can't find the motivation in yourself, keep people around you who will continue to push you even when you don't want to hear it.
You can continue to follow Naya's active journey through life by following her on her social channels!
Instagram: @Nayatapper
Twitter: @Nayatapper
Facebook: @Nayatapper 
Read more Silipos stories!