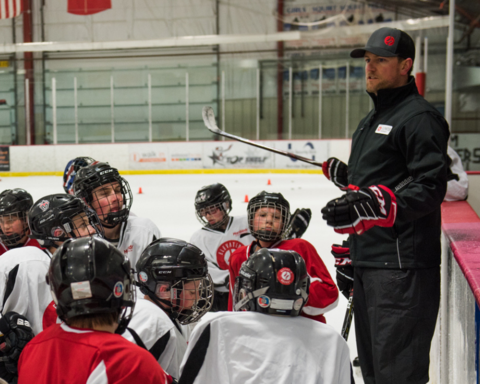 Name: Pete Kamman
Where do you live? Bozeman, Montana
Do you have a day job or are you a professional athlete? I am self employed outside of hockey, but also make a partial living coaching hockey and hosting individual skill training camps.
How long have you been participating in this sport? I've been involved in hockey for over 30 years. First as a player and now as a coach for the last 15 years.
What athletes do you look up to? I look up to hockey players or athletes in other sports that beat the odds. Those that are smaller, were cut or passed over, came from non-traditional backgrounds or overcame huge obstacles in order to succeed. I love seeing athletes devoted to success and who work hard to achieve their dream.
What is your training regiment? Since I am no longer a player, most of my training regiment is on the mental side. I try to read a lot of coaching books and articles, watch game footage, watch drill videos and take whatever coaching training's I can get access too.
Describe your perfect day. What does it consist of? The perfect day is a mix of family, hockey and travel. Starting the day with a pond hockey session with my sons while in a new town or country, having a family meal and exploring and then heading to the rink for a practice or game. That is a perfect all-around day for me!
What is your diet like? I try to eat as healthy as possible to stay sharp. A lot of fruits and vegetables with a steady course chicken and some red meat. Luckily, my wife and I love to cook and are always trying new healthy recipes. We stay away from most dairy and processed foods and have cut fast food out of our lives completely.
How do you take care of yourself? I try to keep a good mix of work, rest and play. We all work in one way or another, so I try to disconnect, get plenty of sleep and enjoy time with my family or traveling whenever possible. At the rink, I go all in on the practice or game, which can be mentally and physically exhausting. So it is always healthy to have that recovery time back home.
What was your impression of the Silipos product we sent you? How did it add value to you? What did you like about it? The Silipos Oval Lace Bite Sleeve was exactly what I needed. I've had chronic lace bite issues on my left ankle and the Silipos Oval was the first product I have found that eliminates the pain of lace bite while still comfortably fitting in my skate. The gel cushioning provided just the right comfort and protection on my ankle, so I was definitely impressed while using it. It's now become a staple piece of equipment in my hockey bag.
Would you recommend Silipos products to other athletes? Definitely! I use the Silipos Oval Lace Bit Protector on my left ankle. It used to always be a problem for me, especially when break in new skates, but the Oval Lace Bite sleeve has sleeve a huge help.
What is one piece of advice you would give to an aspiring athlete? Set your goals high, put a plan in place to reach them and then outwork everyone else along the way.
You can continue to follow Pete's career and active journey through life by following him on his social channels! 
Instagram: @elevatedhockey
Twitter: @elevatedhockey
Facebook: elevatedhockey
Read more inspiring Silipos stories!