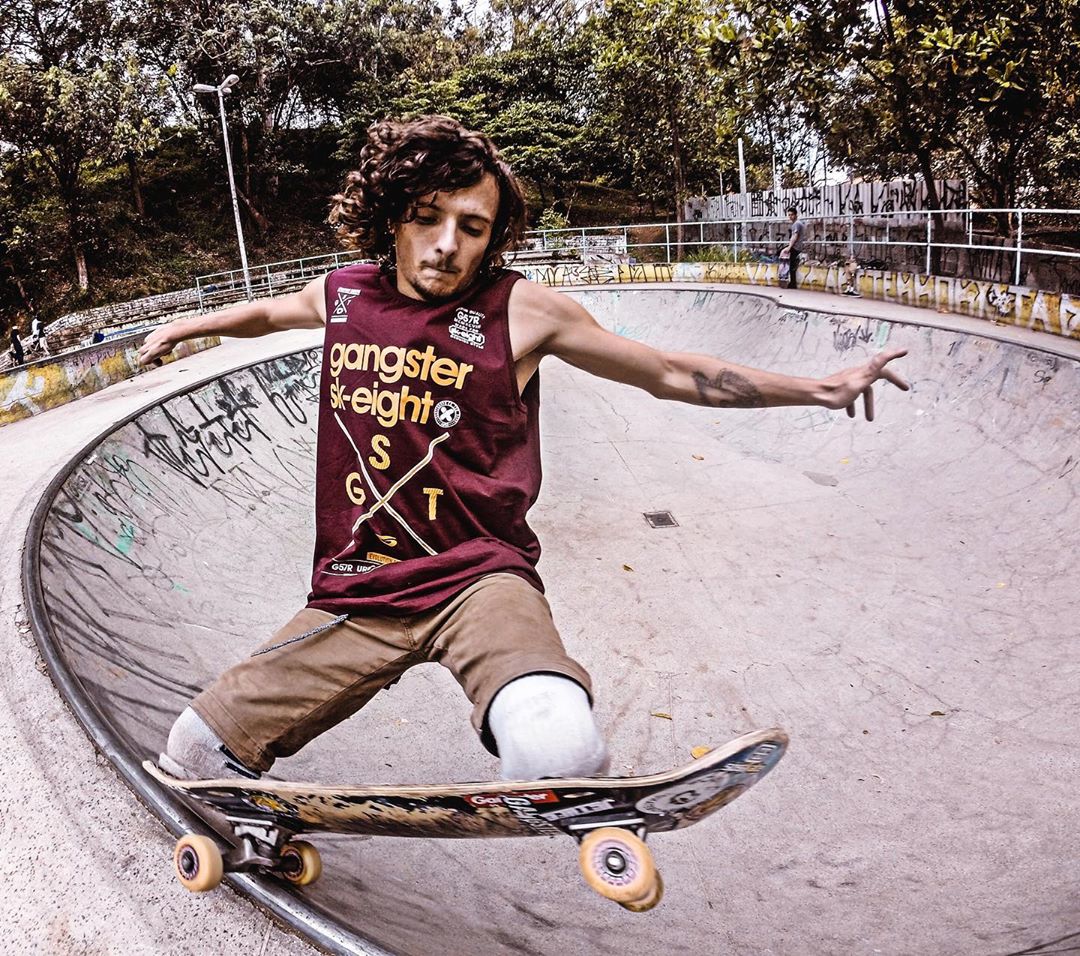 Name: Vinicios Sardi
Where do you live? I live in São Paulo city, Brazil
What type of athlete are you? I am skateboarder, adaptive skateboarder
Do you have a day job or are you a professional athlete? I have not yet become a skateboard pro but I'm working on it. I work as a graphic designer while I am training as a skateboarder.
How long have you been skateboarding? I started practicing when I was 16 years old, I've been skateboarding for 7 years now.
Who are your biggest influences? There are many people I admire, professional skaters like Pedro Barros, Tony Hawk, Steve Caballero. Also extreme wheelchair athlete Aaron Wheelz (Aaron Fotheringham) are people who inspire me to want to be a great athlete.
What is your training regimen? I train 3 to 4 times a week, reinforcing the maneuvers I already have and always trying other possibilities. In addition I go to gym to keep my body in high performance and avoid injuries
How do you structure your days? I usually organize my day in 3 periods. The first one I use to take care of social media, post new photos and videos, respond to emails and generate some content. Secondly, I going to skate, no matter if I'm training hard or just for fun. I also usually make photos and videos while skating to post in the media in the future. Third, I usually go to the gym.
Do you find your diet to be a crucial part of your lifestyle? I take care of my weight because of my prosthesis and also to keep in shape helps me a lot with agility over the skateboard
How do you care for your body and health aside from your sport? For me it is important to take care of my body because it is my work tool, so I do a lot of exercises every day besides the gym and functional exercises. Periodically, when I feel pain I make checkups at the doctor and I always follow what the doctor says
What is your impression of the Silipos products we sent you? My first impression of the Silipos Suspension Sleeve was very good, starting with the fact that they are colorful and stylish. When using it I felt that they are very comfortable and make the prosthesis to be quite firm, both for walking and running.
Would you recommend Silipos products to other athletes? Of course, the products are very good and helpful.
What is something that your followers do not know about you, that you find to be very important to your personal lifestyle? I like to be rebellious, think outside the box, always be positive about things, always believe that will work is kind of fuel for my lifestyle
What keeps you motivated when you are faced with challenges? Well, since I started to skate, I came across many barriers and challenges, the will to overcome me keeps me motivated, the sport has changed my life, changed the way I see the world.
What is one piece of advice you would give to an aspiring athlete? I always say that the important thing is for you to believe in yourself, and never give up, there are moments that we want to give up, but this is how life tests us. if you have a dream, believe in it and go achieve it.
You can continue to follow Vinicios's active journey through life by following him on his social channels!
Instagram: @Vsardiskate
Read more Silipos stories!